'Twilight Table' event, returned to Oracle Boulevard this Sunday 16 October for its 4th year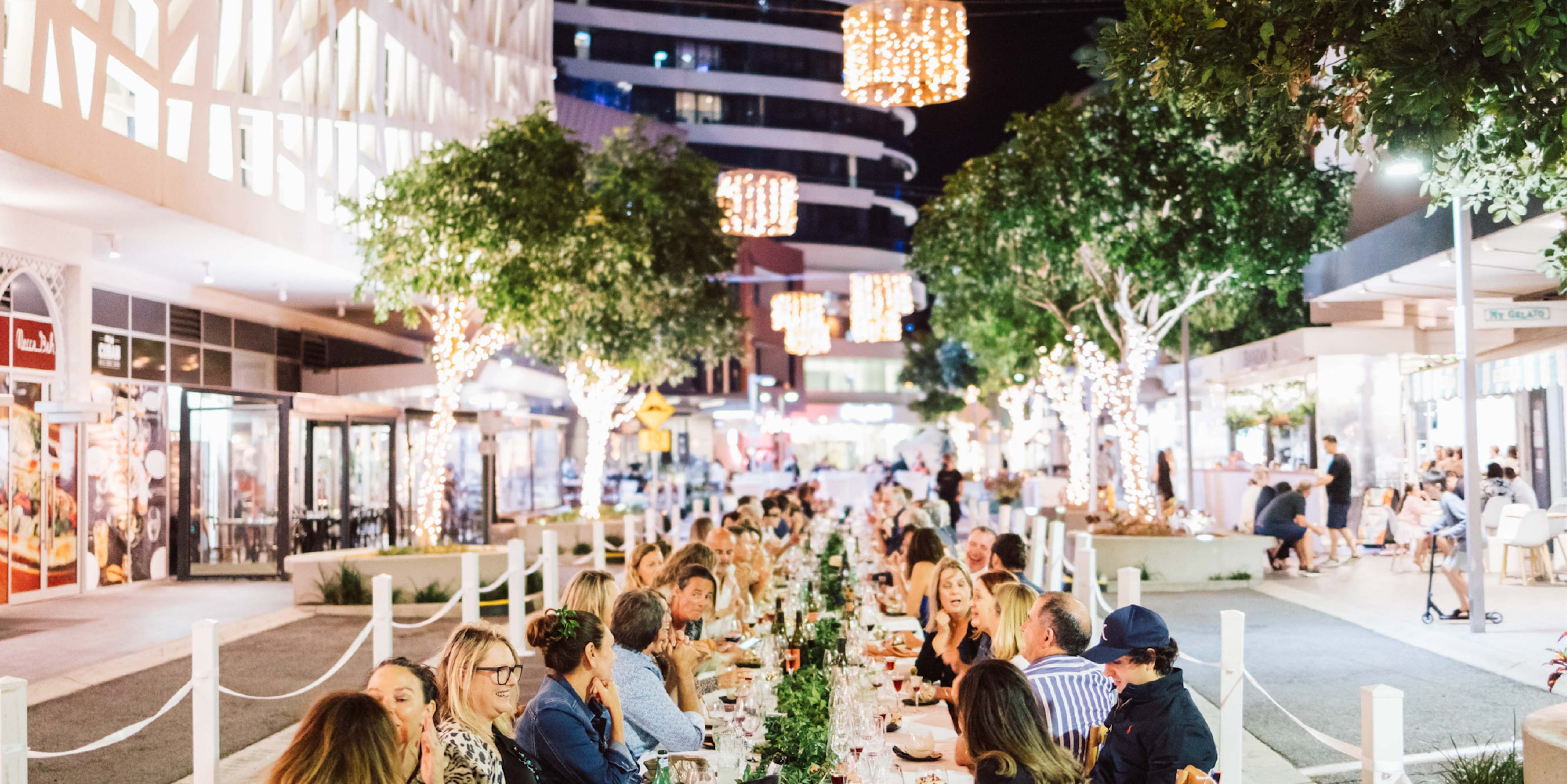 29/10/2022
The highly anticipated 'Twilight Table' event, returned to Oracle Boulevard on Sunday 16 October from 4:30pm – 8:30pm. In its' fourth year, the event will showcase the culinary creations...
Well what a year that was.  It went from zero to one hundred in the blink of an eye and Event Society ended 2021 on a high.
One of our fave events that we have the pleasure of planning every year is undoubtedly Twilight Table.
It's no secret that we love event styling and always pay particular attention to the small details.  The street hosts an 80m long dining table and this year we designed a sophisticated and natural feel with classic white linen tablecloths, oak cross back chairs, greenery garlands and a hint of burnt Terracotta for a pop of colour. Our team of Gold Coast event designers ensured the table was set to perfection on the day.
Foodies of the Gold Coast arrived as the sun set over Broadbeach and sipped on cool Aviation Gin Cocktails as they mingled in the warm October twilight.
Canapes were served care of MeccaBah, The Lucky Squire and The Bavarian and included, steamed Persian Green-Style Dumplings, Mushroom and Truffle Arancini Balls and Sticky Teriyaki Whisky Wings with blue-cheese dip.
Guests then took their seats at our beautifully decorated banquet table for the famous Spanner Crab Ravioli with scallops, prawns, water chestnut + coconut sambal bisque from Chef Hat Award-winning restaurant – Mamasan. This dish followed the perfect blend of tradition and modern cuisine from South East Asia that Mamasan is renowned for.
Listening to the smooth sounds of Jason McGregor and band, our delighted guests were then served an entrée care of The Cuban with a dish inspired by the original party island of Cuba – free range crispy skin slow cooked pork belly bites with confit apple, cinnamon, and chili sauce.
Each wine was selected to compliment every course which further added to the dine dining experience.
Main course was served by Social Eating House, a casual fine dining restaurant known and loved by locals and Gold Coast Visitors.  Winners of three consecutive 'Chef of the Year' awards, Social turned out 200 mouth-wateringly perfectly cooked Wagyu eye fillet with hot potato mousse and greens – in 20 mins.
Dessert was next, care of Orzo – a contemporary Coastal Italian Restaurant using traditional techniques with a global influence.  Orzo served a classic layered Tiramisu, beautifully presented with fresh flowers and chocolate.
The final course came from dessert and cocktail bar – Cowch, in the form of an elegant alternative to the classic after dinner mint – a Mint Choc Naked Pop.
This Gold Coast event is one with a lot of moving parts and it takes a local event management company and experienced team of event planners and organisers to coordinate everything. We love it though, and relish the opportunity to bring people together to celebrate especially after we have been separated for so long.
If you are planning any kind of event on the Gold Coast or Brisbane, or event if you an international client looking for an event company in Australia, we would love to chat through your requirements to see how we can help.
Contact us here to get the event planning started.